15 Jan 2022, last revised 29 Jul 2023
With only two, extremely rare bottles, D. E. St. Amour's soda business was probably short-lived. Bottle #76 has a date code for either 1908 or 1909, which gives us a clue as to when he was in business.
Deno E. St. Amour was born in Michigan in about 1872 (2). His various occupations throughout life reveal that being a bottler was a transitory endeavor. He was an engineer at the time of his marriage on 23 Sep 1902 in Chassell (4). The 1907 directory listed him in Houghton as a teamster for A. Haas Brewing Co. (5). The 1910 directory noted that he had moved to Lake Linden (6).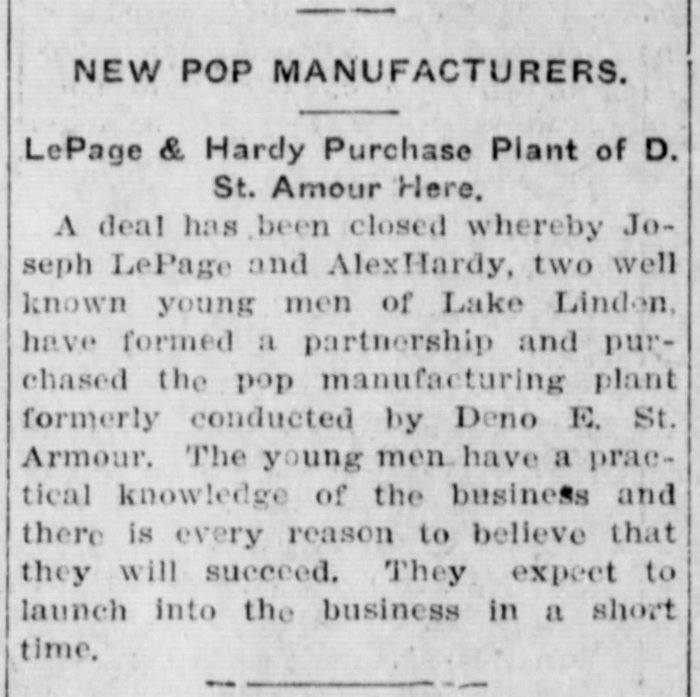 Newspaper article - Oct 1909
It is unknown when he moved to Lake Linden or when he started the bottling works, but by Oct 1909, he had sold it to Joseph LePage and Alex Hardy (7). Since the bottling works was not listed in a Polk directory, we do not know where it was located.
Deno was not included with his family, who resided in Chassell, for the 1910 U.S. Federal Census (1). Instead, he was in Tacoma, Washington where he was a scaler (8,9), and then a chauffeur (10-13). In 1918, he was a machinist for the Tinker Axle Co. in Detroit (14). The 1920 census recorded him and his family in Detroit where he was a machine operator for the automobile industry (2). We could not find him on the 1930 census. He was 66 years old and still in Detroit for the 1940 census, but now as a truck driver (3). We do not know when he died.
References
U.S. Census Bureau. 1910 United States Federal Census. accessed on ancestry.com.
U.S. Census Bureau. 1920 United States Federal Census. accessed on ancestry.com.
U.S. Census Bureau. 1940 United States Federal Census. accessed on ancestry.com.
Michigan, U.S., Marriage Records, 1867-1952 (accessed on ancestry.com).
R. L. Polk & Co. 1907. Michigan State Gazetteer and Business Directory for 1907-1908. R. L. Polk & Co. Detroit, MI.
R. L. Polk & Co. 1910. 1910 Calumet, Houghton, Hancock and Laurium Directory. R. L. Polk & Co., Publishers. Detroit, MI.
anonymous. (1909, Oct 27). New Pop Manufacturers. The Calumet News (Calumet, MI). p. 4.
R. L. Polk & Co. 1910. Tacoma City Directory 1910. R. L. Polk & Co. Publishers. Tacoma, WA.
R. L. Polk & Co. 1911. Tacoma City Directory 1911. R. L. Polk & Co. Publishers. Tacoma, WA.
R. L. Polk & Co. 1912. Tacoma City Directory 1912. R. L. Polk & Co. Publishers. Tacoma, WA.
R. L. Polk & Co. 1913. Tacoma City Directory 1913. R. L. Polk & Co. Publishers. Tacoma, WA.
R. L. Polk & Co. 1914. Tacoma City Directory 1914. R. L. Polk & Co. Publishers. Tacoma, WA.
R. L. Polk & Co. 1915. Tacoma City Directory 1915. R. L. Polk & Co. Publishers. Tacoma, WA.
U.S., World War I Draft Registration Cards, 1917-1918 (accessed on ancestry.com)
×
---
75
capacity:
half-pint
color:
aqua
top:
Hutchinson top - tooled
maker's mark:
A B CO (back heel)
other marks:
(none)
date:
1909
rarity:
extremely rare
this example has date code: 9 - S
---
76
capacity:
quart
color:
aqua
top:
crown top - tooled
maker's mark:
A B Co (back heel)
other marks:
THIS BOTTLE IS NOT SOLD AND MUST BE RETURNED (lower back)
date:
1909
rarity:
extremely rare
this example has date code: 9 - S
---