26 Nov 2021, last revised 12 May 2022
The two initials and no town location on the B. & N bottle reveal very little about this bottling works. Fortunately, the 1875 Michigan State Polk directory listed "Northey & Benny, Red Jacket" in Soda Water Manufacturers (1). This listing confirms that the B. & N bottle is a Copper Country bottle, and it also identified the proprietors of the bottling works.
Peter Bennie previously had a partnership with Joseph Lloyd (see J. L & B). After the partnership dissolved on 01 May 1872 (2), they each started to run their own soda-works ads, with Bennie's ad running from May 1872 to Jun 1874. Bennie evidently took the Red Jacket branch, while Lloyd took the Houghton, Hancock, and L'Anse branches (8).
Newspaper notice - Apr 1874
We could not find any ads for Bennie & Northey in the Portage Lake Mining Gazette or the Northwestern Mining Journal. The question was, who was Northey? The first thought was he was Matthew Northey, since Matthew later had a bottling works in Houghton. But then it was discovered that the later firm of N. & J. consisted of brothers, Matthew and William Northey. It turns out, he was not William either. Instead, "Henry Northy" was specified on the dissolution with "Peter Benney" (4).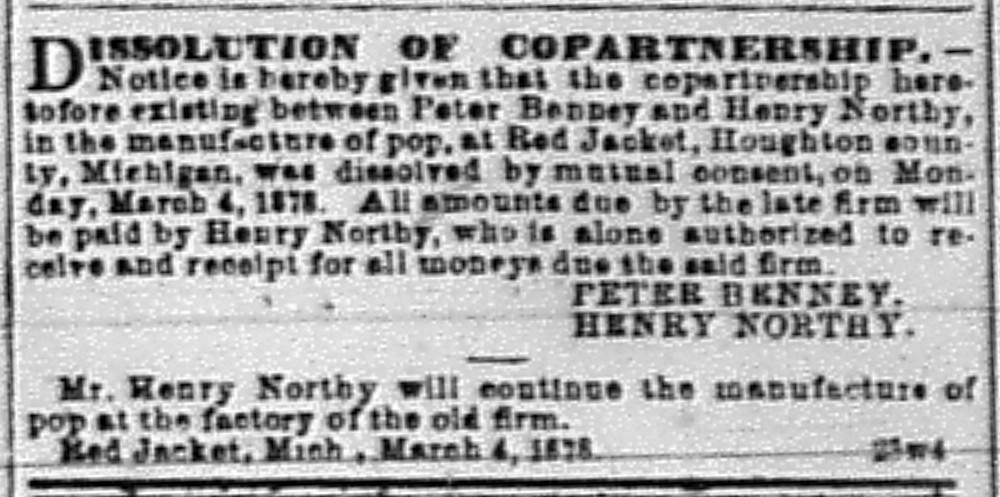 Newspaper notice - Mar 1878
The partnership dissolved on 04 Mar 1878 with Northey (or Northy) keeping the business (4). But who was Henry Northey? One possibility is that he was the older brother of Matthew and William (5). It turns out, though, there was also a "Henry Northy" that resided in Calumet Township and had different parents (6,7). Without some cross-reference to being a bottler, we cannot be sure which one was the partner to Bennie.
We found a marriage record for a "Peter Benie", who was born in Canada, resided in Red Jacket, worked as a merchant, and was married to Hellen A. Nette on 27 Oct 1875 at the age of 29 (3). Given that "Henry Northey" was a witness to the marriage (3), this was most likely the correct person of the bottling works. Curiously, though, we could not find any other genealogical information on Peter Bennie.
Given the information we found, B. & N started in 1874 or 1875, and ended in 1878. It is unknown how long Northey ran the bottling works alone after the partnership with Bennie dissolved. It is also unknown if the bottling works then became Northey Bros. & James (see N. & J.).
References
R. L. Polk & Co. 1875. Michigan State Gazetteer and Business Directory 1875. The Tribune Printing Company. Detroit, MI.
anonymous. (1872, May 09). Dissolutions. Portage Lake Mining Gazette (Houghton, MI). p. 3.
Michigan, U.S., Marriage Records, 1867-1952 (accessed on ancestry.com).
anonymous. (1878, Mar 07). Dissolution of Copartnership. Portage Lake Mining Gazette (Houghton, MI). p. 3.
Census Returns of England and Wales, 1861. Kew, Surrey, England: The National Archives of the UK (TNA): Public Record Office (PRO), 1861.
U.S. Census Bureau. 1880 United States Federal Census. accessed on ancestry.com.
Michigan Department of Community Health, Division for Vital Records and Health Statistics; Lansing, Michigan; Death Records (accessed on ancestry.com).
anonymous. (1872, May 16). Business Changes. Portage Lake Mining Gazette (Houghton, MI). p. 3.
×
---
6
capacity:
half-pint
color:
aqua
top:
blob top - applied
maker's mark:
A & D. H. C. (heel)
other marks:
(none)
date:
1874-1878
rarity:
rare
---