27 Sep 2021, last revised 27 Feb 2022
With just two bottles that form a pair of different sizes, both extremely rare, it appears A. Kemp was a short-lived operation that probably made only one purchase of bottles. The 1897 Polk directory listed Kemp & Roberts consisting of Arvid Kemp and Frank Roberts as manufacturers of carbonated waters (1). This was their only listing, as they did not appear in the 1895 directory (2) nor the 1899 directory (3), confirming a brief period of existence.
Arvid Kemp was born in March 1868 in Finland and immigrated to the U.S. in 1887 (4). It is unknown when he arrived in the Copper Country, but his marriage record indicates that he was a resident of Calumet and a miner on 18 July 1896 (6). The Frank Roberts we found living in Calumet during this time period, according to his marriage record, was born in Calumet and was working as a miner on 11 Feb 1893 (6).
Newspaper notice - Oct 1897
A notice in The Copper Country Evening News on 07 Oct 1897 stated that the firm of Kemp & Roberts, pop manufacturers, was dissolved (5). Kemp had plans to continue the business at the old stand, and Roberts was no longer responsible for any debts or payments for the firm. Kemp was not listed in the 1899 directory (3), so if he did actually continue the business, it was not for long. By 1900, Kemp had moved to Hancock and was a wood chopper and Roberts had moved to Franklin and was a miner (4).
The 1897 directory located their business at 426 Pine St. in Calumet, which was also Kemp's residence, while Roberts resided in Tamarack (1). This address was on the south side of the street just west of 4th St., although at the time, 4th St. was obstructed by a building on Pine St. The 1897 Sanborn map labeled the front building as a dwelling and a tiny rear building as a pop factory. Certainly, this was a small operation.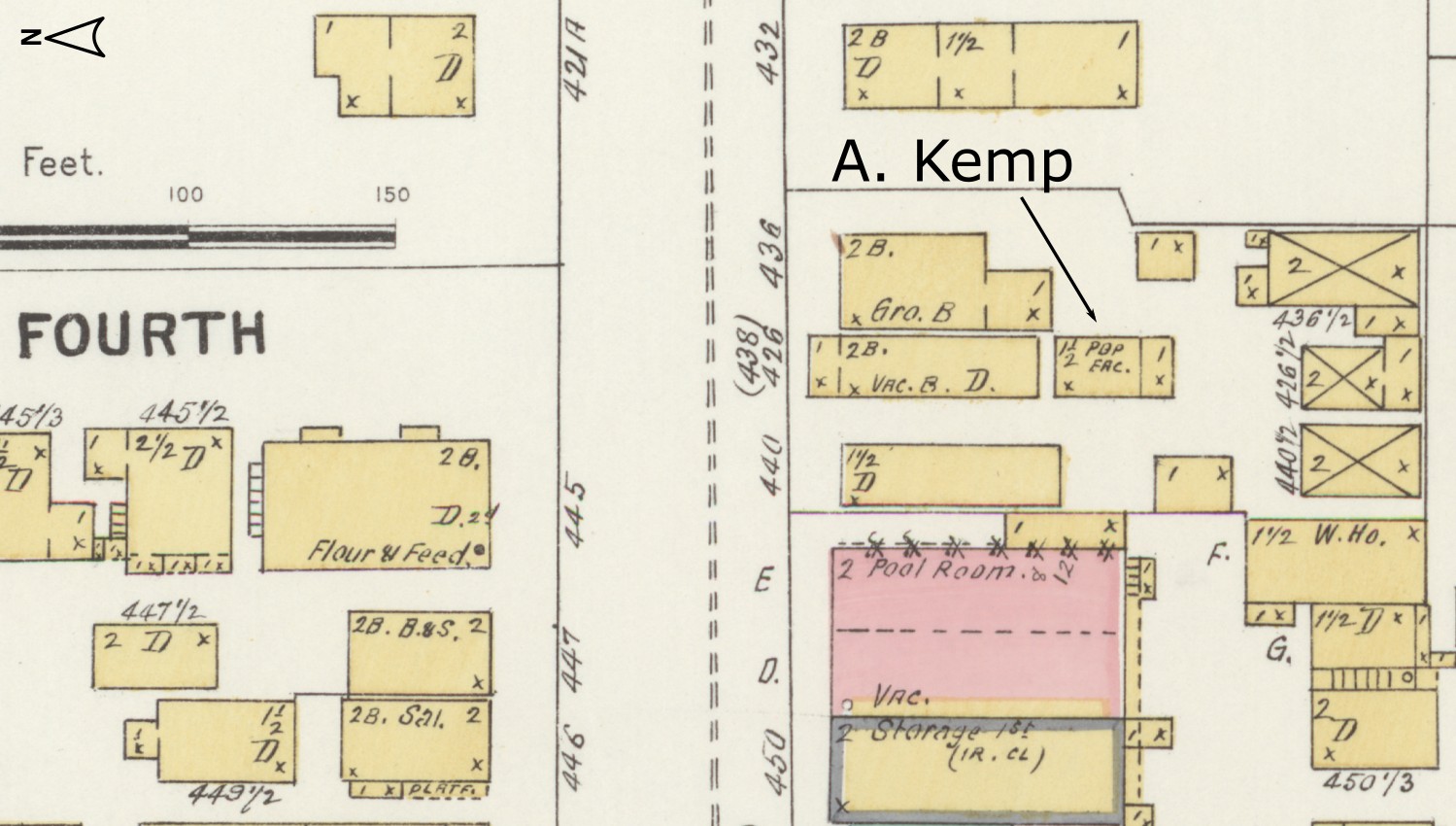 Sanborn map - Dec 1897
Interestingly, the 1897 directory also located Isaac Lantto at the same address. He was a barber, but also proprietor of Red Jacket Bottling Works. In Jul 1898, Kemp sold the bottling works to R. T. Harvey of Calumet Bottling Works / Harvey Bottling Works, which (after moving to Laurium) became the most successful pop company in the Copper Country.
Given what we have learned, Kemp's pop operation started in the second half of 1896 or in 1897, and ended in Jul 1898. It is still unknown why the bottles have only Kemp's name on them. Were the bottles from Kemp & Roberts or from after the firm dissolved? Or perhaps the business started with just Kemp, during which time he ordered the bottles.
References
R. L. Polk & Co. 1897. Houghton County Directory 1897-98. R. L. Polk & Co., Publishers. Detroit, MI.
R. L. Polk & Co. 1895. Houghton County Directory 1895-96. R. L. Polk & Co., Publishers. Detroit, MI.
R. L. Polk & Co. 1899. Houghton County Directory 1899-1900. R. L. Polk & Co., Publishers. Detroit, MI.
U.S. Census Bureau. 1900 United States Federal Census. accessed on ancestry.com.
anonymous. (1897, Oct 07). untitled. The Copper Country Evening News (Calumet, MI). p. 8.
Michigan, U.S., Marriage Records, 1867-1952 (accessed on ancestry.com).
anonymous. (1898, Jul 28). Pop Factory Changes Hands. The Copper Country Evening News (Calumet, MI). p. 5.
×
---
95
capacity:
quart
color:
straw to colorless
top:
Hutchinson top - tooled
maker's mark:
(none)
other marks:
THIS BOTTLE NOT TO BE SOLD (back)
date:
c.1897
rarity:
extremely rare
---
96
capacity:
half-pint
color:
straw to colorless
top:
Hutchinson top - tooled
maker's mark:
(none)
other marks:
(none)
date:
c.1897
rarity:
extremely rare
half-pint-sized complement to 95
---