14 Nov 2021, last revised 15 Nov 2021
The bottle book, Old Copper Country Bottles, featured two bottles embossed with HANCOCK POP CO. and one bottle embossed with LOUIS WOLFSKY. Since then, a Hancock Pop Co. bottle (#s13) was discovered with initials, L. W., linking the company name to Louis Wolfsky as the proprietor. This bottle remains as the only link between the two. The Polk directories listed Louis Wolfsky but not the Hancock Pop Co.
Louis Wolfsky was born on 05 Aug 1866 in Russia (1), and immigrated to the U.S. in 1880 (2). It is unknown when he arrived in the Copper Country. The 1901 directory listed him as manager of Dora Oshinsky's fruit and cigar store at 106 Quincy St. (3). The Sanborn maps show that the street was re-numbered between 1900 and 1907, and this address was located on the south side between Tezcuco St. and Reservation St. The 1903 and 1905 directories listed him as proprietor of the California Fruit Store at the same address (4,5), indicating that he purchased the store from Oshinsky. The listing stated that he was a manufacturer of high-grade ice cream and pop, and dealer in fruit, candy, cigars, and tobacco (4). It seems that the fruit store likely housed the Hancock Pop Co.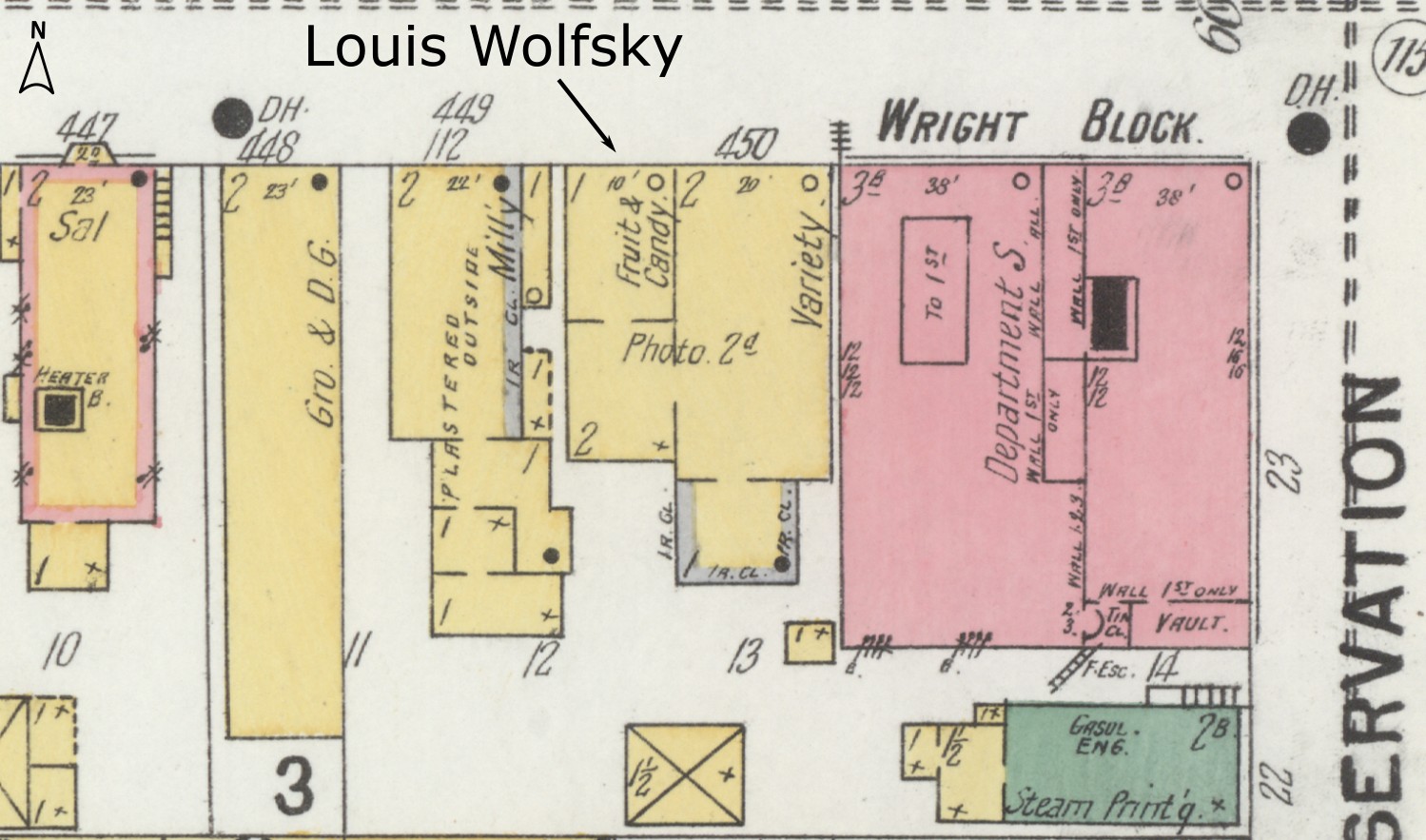 Sanborn map - Jun 1900
By the 1907 directory, Wolfsky had moved to 805 Franklin St. and was listed as a bottler (6). We could not find this address on the Sanborn map, but it would have been among residences. He was still a bottler on the 1909 directory (7), and then an ice cream manufacturer on the 1910 and 1912 directories (8,9). In 1916, he was a clerk in his wife's confectionery store (10). In 1920, he was a traveler (11). In 1930, he was a salesman of dry goods in Chicago (12). He then died on 07 Feb 1950 at the age of 83 in Stanton Township, Houghton County (13) and was buried in Forest Hill Cemetery, Houghton (14).
Even though Wolfsky started to manufacture pop by 1903, it is unclear when he started bottling. One bottle (#s13) bears the S B & G Co mark, which dates from 1881 to 1905 (15). Two bottles (#61 and 63) bear the AB ligature, which dates from 1905 to c.1909 (16). These maker's marks along with the Polk directory listings suggest that he likely bottled from about 1905 to 1909, although he could have started around 1903. One feature unique about the bottles is that he used "Pop Co." instead of "Bottling Work" in the company name. Pop arguably better matches the sale of ice cream and candy. In contrast, many bottling works sold mineral water, which was marketed as a healthful, even medicinal, beverage.
References
Michigan Department of Community Health, Division for Vital Records and Health Statistics; Lansing, Michigan; Death Records (accessed on ancestry.com).
U.S. Census Bureau. 1910 United States Federal Census. accessed on ancestry.com.
R. L. Polk & Co. 1901. Houghton County Directory 1901-02. R. L. Polk & Co., Publishers. Detroit, MI.
R. L. Polk & Co. 1903. Houghton County Directory 1903-04. R. L. Polk & Co., Publishers. Detroit, MI.
R. L. Polk & Co. 1905. Houghton County Directory 1905-06. R. L. Polk & Co., Publishers. Detroit, MI.
R. L. Polk & Co. 1907. Houghton County Directory 1907-08. R. L. Polk & Co., Publishers. Detroit, MI.
R. L. Polk & Co. 1909. Michigan State Gazetteer and Business Directory for 1909. R. L. Polk & Co. Detroit, MI.
R. L. Polk & Co. 1910. 1910 Calumet, Houghton, Hancock and Laurium Directory. R. L. Polk & Co., Publishers. Detroit, MI.
R. L. Polk & Co. 1912. 1912 Calumet, Hancock, Houghton and Laurium Directory. R. L. Polk & Co., Publishers. Detroit, MI.
R. L. Polk & Co. 1916. Houghton County Directory 1916-17. R. L. Polk & Co., Publishers. Detroit, MI.
U.S. Census Bureau. 1920 United States Federal Census. accessed on ancestry.com.
U.S. Census Bureau. 1930 United States Federal Census. accessed on ancestry.com.
Michigan Department of Community Health, Division for Vital Records and Health Statistics; Lansing, Michigan; Death Records (accessed on ancestry.com).
Find a Grave. accessed Nov 2021. Louis Wolfsky. findagrave.com/memorial/67331242/louis-wolfsky
Lockhart, B., B. Schriever, B. Lindsey, and C. Serr. 2019. Streater Bottle & Glass Co. In: Encyclopedia of Manufacturer's Marks on Historic Bottles. posted on Historic Glass Bottle Identification & Information Website. https://sha.org/bottle/pdffiles/StreatorBottleGlassCo.pdf
Lockhart, B., P. Schulz, B. Lindsey, C. Serr, D. Whitten, and B. Schriever. 2013. The American Bottle Co.: A study in contrasts and contradictions. In: Encyclopedia of Manufacturer's Marks on Historic Bottles. posted on Historic Glass Bottle Identification & Information Website. https://sha.org/bottle/pdffiles/AmericanBottleCo.pdf
×
---
61
capacity:
quart
color:
aqua
top:
Hutchinson top - tooled
maker's mark:
(back heel)
other marks:
(none)
date:
1905-1909
rarity:
extremely rare
maker's mark was stated as A B Co. in the book
lacks a date code
---
62
capacity:
half-pint
color:
aqua
top:
Hutchinson top - tooled
maker's mark:
(none)
other marks:
THE LIQUID (base)
date:
1905-1909
rarity:
extremely rare
half-pint-sized complement to 61
the A B Co. mark stated in the book was not found on this example
lacks a date code
---
s13
capacity:
quart
color:
aqua
top:
Hutchinson top - tooled
maker's mark:
S B & G Co (back heel)
other marks:
(none)
date:
c.1905
rarity:
extremely rare
the initials connect Louis Wolfsky to his company name
---
63
capacity:
half-pint
color:
aqua
top:
Hutchinson top - tooled
maker's mark:
(back heel)
other marks:
(none)
date:
1905-1909
rarity:
extremely rare
makers mark was incorrectly stated as A B Co. in the book
lacks a date code
---