15 Oct 2021, last revised 19 Oct 2021
Dr. S. E. Campbell was a short-term resident of the Copper Country, but he left us with one pharmacy bottle that bears his name. This bottle was discovered after the publication of the bottle book, Old Copper Country Bottles in 1978.
Samuel Ensign Campbell was born on 03 Apr 1856 (17) in Harpersfield, NY (1) to parents born in New York (5). His family resided in Bovina, NY during his early life (2,3,4), which is where, at the age of 24, he was listed as an "apprentice to apothecary" on the 1880 U.S. Federal Census (5). He attended the Detroit Medical College and graduated in 1882 (1). The birth of his children, the last being in 1894, suggests that he was in Saginaw, MI before moving to the Copper Country (ancestry.com). It is unclear when he arrived, but he was listed as a physician at 105 Quincy St., Hancock in the 1899 Polk directory (11) and as a physician in the 1900 U.S. Federal Census (6). He was not listed in the directories of 1901 and 1903 (12,13), and then in 1905, he was listed as a druggist, with a drug store at 416 Quincy St., Hancock (7), which was on the south side, halfway between Montezuma St. and Mesnard St. By the 1907 directory, he had moved to Plymouth, MI (8). He remained in Plymouth as a physician (9,10) until his death on 25 Dec 1925 at the age of 69 (1,17).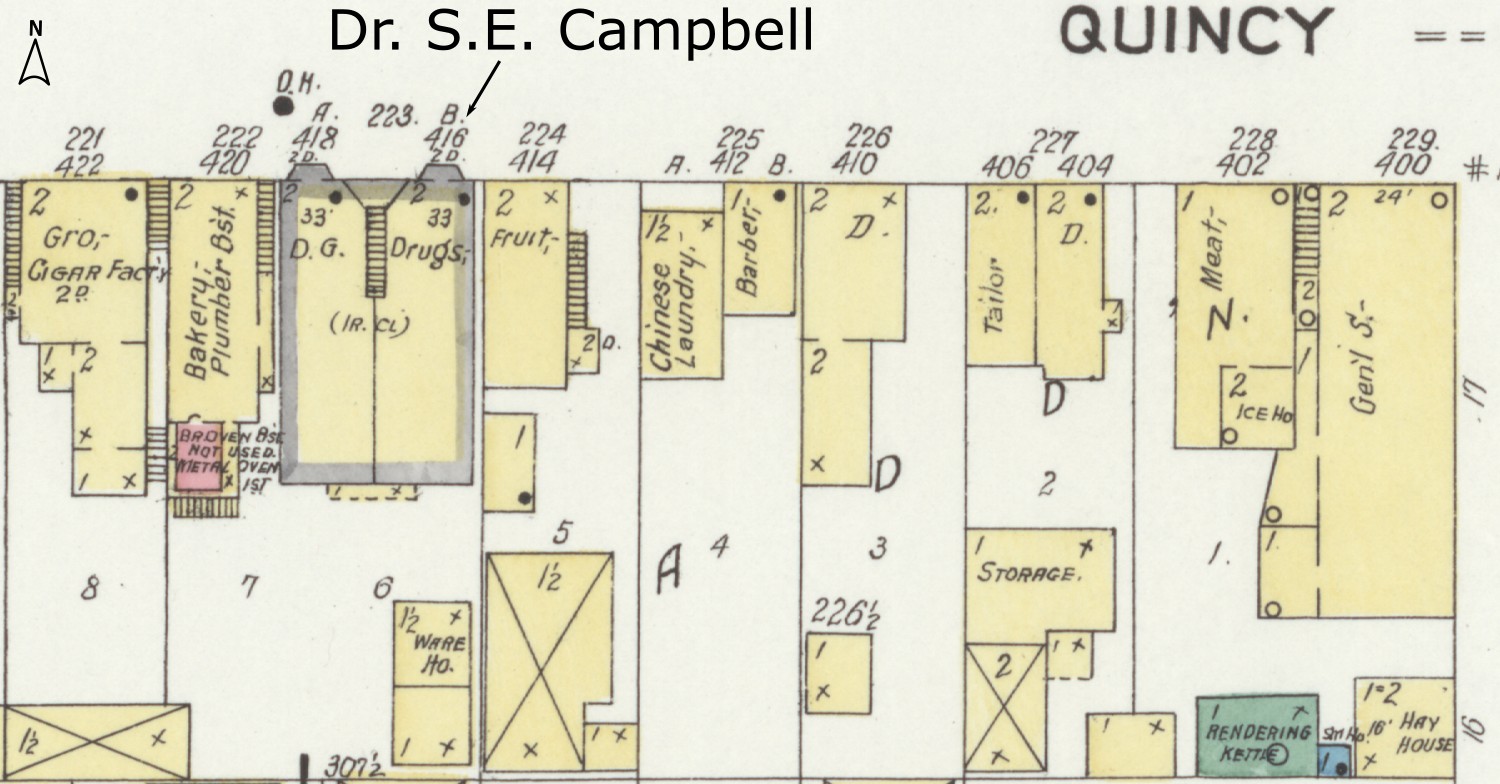 Sanborn map - Nov 1907
With Campbell's short duration as a druggist in the Copper Country, we can date his bottle to 1904-1906.
It appears that Campbell did not establish the drug store, but instead was one druggist in a succession that occupied the same location. W. B. Minthorn was the first druggist at the location, being listed in 1899, 1901, and 1903 (11,12,13). Campbell was next (7). Then came Arthur A. Metcalf, being listed in 1907 and 1910 (8,14). MacAllister's Drug Store with John E. MacAllister as proprietor was listed in 1912 (15). The 1916 volume, the last Houghton County Polk directory we have access to, listed Owl Drug Store with Charles L. Reed as proprietor occupying the 416 Quincy St. location (16).
References
Directory of Deceased American Physicians, 1804-1929 [database on-line].
U.S. Census Bureau. 1860 United States Federal Census. accessed on ancestry.com.
State of New York. 1865 New York State Census. accessed on ancestry.com.
State of New York. 1875 New York State Census. accessed on ancestry.com.
U.S. Census Bureau. 1880 United States Federal Census. accessed on ancestry.com.
U.S. Census Bureau. 1900 United States Federal Census. accessed on ancestry.com.
R. L. Polk & Co. 1905. Houghton County Directory 1905-06. R. L. Polk & Co., Publishers. Detroit, MI.
R. L. Polk & Co. 1907. Houghton County Directory 1907-08. R. L. Polk & Co., Publishers. Detroit, MI.
U.S. Census Bureau. 1910 United States Federal Census. accessed on ancestry.com.
U.S. Census Bureau. 1920 United States Federal Census. accessed on ancestry.com.
R. L. Polk & Co. 1899. Houghton County Directory 1899-1900. R. L. Polk & Co., Publishers. Detroit, MI.
R. L. Polk & Co. 1901. Houghton County Directory 1901-02. R. L. Polk & Co., Publishers. Detroit, MI.
R. L. Polk & Co. 1903. Houghton County Directory 1903-04. R. L. Polk & Co., Publishers. Detroit, MI.
R. L. Polk & Co. 1910. 1910 Calumet, Houghton, Hancock and Laurium Directory. R. L. Polk & Co., Publishers. Detroit, MI.
R. L. Polk & Co. 1912. 1912 Calumet, Hancock, Houghton and Laurium Directory. R. L. Polk & Co., Publishers. Detroit, MI.
R. L. Polk & Co. 1916. Houghton County Directory 1916-17. R. L. Polk & Co., Publishers. Detroit, MI.
Find a Grave. accessed Oct 2021. Dr Samuel Ensign Campbell. findagrave.com/memorial/96074502/samuel-ensign-campbell
×
---
s26
4 oz
color:
colorless
top:
cork top - tooled
base outline:
date:
1904-1906
capacity - H x W - base mark - rarity:
1 oz. - 9.8 x 3.8 cm - (none) - extremely rare
4 oz. - 14.1 x 5.3 cm - (none) - extremely rare
capacity not marked on bottle
---